10 Famous Historical Places in Indonesia
Superadmin
|
|
0 Minute Read
|
Review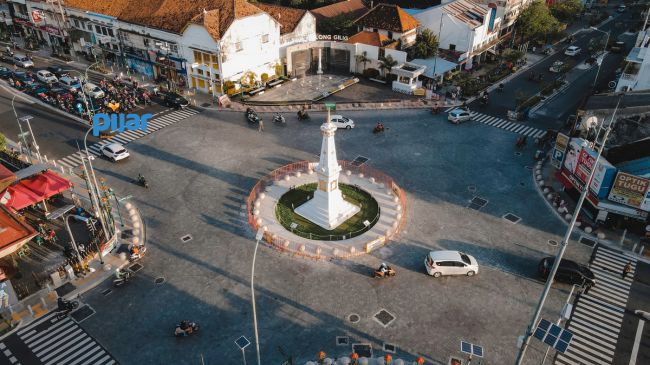 Isi Artikel

Did you know that Indonesia is famous for its cultural diversity since it is a home to more than 17,000 islands?
Consisting of hundreds of ethnicities, languages, and traditions, our motherland seems to have endless places that attract local and international tourists to visit. 
You might also like: Ini Dia 34 Rumah Adat di Indonesia
10 Famous Historical Places in Indonesia
Historically, Indonesia has been through several major events to make it as it is today. From Hindu-Buddhist era, the entry of Islam, Dutch and Japanese colonization, until the proclamation of Indonesian independence in 20th century affect the background of famous places which spread throughout the country. Most of them you may see in History textbooks.
Here are ten famous historical places in Indonesia which you can visit and feed your curiosity.
1. Borobudur Temple
Borobudur Temple is the most famous and largest Buddhist temple in the world. Located in Magelang, Central Java, this temple is a witness of a great Buddhist kingdom, Ancient Mataram in the 9th century. 
This temple was built by Gunadharma, an architect during the reign of the Sailendra Dynasty. The construction of Borobudur temple took 70 years to complete, which makes Gunadharma unable to see the result.
Due to volcanic ash and jungle growth, this temple remained hidden until the discovery in the 19th century. The abandonment started when the population of the dynasty moved to East Java.
2. Prambanan Temple
You probably have heard about this temple in History and Bahasa Indonesia class. Yes, despite its historical background, a myth legend claimed this temple was built overnight by a prince Bandung Bondowoso as a requirement to marry Roro Jonggrang.
Unfortunately, the myth stays myth. Rakai Pikatan built the temple during the reign of the Hindu Sanjaya Dynasty in the 9th century.
Prambanan Temple is dedicated to the Trimurti, the representative of God as Creator (Brahma), the Preserver (Vishnu), and the Destroyer (Syiva). This temple is located in Sleman, Special Region of Yogyakarta.
3. Tanah Lot
Tanah Lot is a temple located on the large offshore rock in Tabanan, Bali. This temple was built in the 16th century by Dang Hyang Niratha, who traveled and saw this beautiful rock. After spending some time to resting and praying there, he built a temple to worship the Balinese sea gods, Bathara Segara. 
Up until now, this temple has become one of many temples that attract tourists because of its beautiful scenery of the Indian Ocean.  
4. Maimoon Palace
Maimoon Palace (Istana Maimun) is a royal palace of the Sultanate of Deli. This palace is located in Medan, Northern Sumatra and was built in 1887.
It is the only Malay palace which we can see today. The architecture of this palace combines Malay and Indian interior design with Spanish, Italian, and French furniture.
Today, Maimoon Palace serves as a museum and a place where the Sultanate of Deli holds traditional ceremonies.
5. Jam Gadang
Often referred to as "Indonesian Big Ben", this big clock is a landmark of Bukittinggi, West Sumatra. 
Originally, this monument was a gift from the Dutch queen, Queen Wilhelmina to the city counselor of Bukittinggi. At the beginning, the top of the clock is a rooster figure, then it was changed into a Shinto-shrine ornament during the Japanese occupation, and finally, it was reshaped into traditional Minang roof after the independence day of Indonesia.
Jam Gadang has become the main tourist attraction in Bukittinggi not only because of its cultural significance, but also because the building is not made of cement or iron. The construction involved original materials such as chalk, white egg, and white sand.
Amazing, isn't it?
You might also like: Ini Dia Biografi Pangeran Diponegoro Terlengkap!
 6. Fort Rotterdam
This port was built in the 17th century by the Gowa Kingdom but then the Dutch took this over and now people mistakenly thought it was built by them.
At that time, locals referred to this building as "benteng penyu" or turtle fort. If we look at the fort from above, the shape of this fort complex is exactly the same as a turtle. The Gowa Kingdom came up with this idea since a turtle is good in both the ocean and the land. They took it as their symbol and identity.
Today, the fort is popular for local youngsters to see the sunset of Makassar. A lot of cultural and literary events are held here throughout the year.
7. Tirta Gangga
Tirta Gangga is a literal local term for water from Gangga river, one of the most sacred rivers in Hinduism. It is located in Karangasem, Bali.
This park was built by the King of Karangasem, Anak Agung Anglurah Ketut Karangasem Agung in 1946 as an honor for Hindu people there. The architecture of this water garden is a unique mix of Balinese and Chinese which resulted in calming views with refreshing ambience. A perfect place to clear the mind.
This royal heritage attracts tourists to visit and become one of the most popular tourist destinations in Bali.
8. Lawang Sewu
Lawang Sewu was once the official headquarters of Dutch East Indies Railway Company in Semarang and now is owned by the national railway company Kereta Api Indonesia (KAI).
Although this building is claimed to be haunted, Lawang Sewu is a perfect place to study about the development of railways during the Dutch colonial period until today, after the independence of Indonesia.
Located in Semarang, Central Java, the building is called lawang sewu which on Javanese means "a thousand doors". Of course, this is just an exaggeration since there are just about 400 doors with 600 large windows which look like doors.
9. Jakarta Old Town
Serving as a museum, Jakarta Old Town was built as an administrative center of the distinguished and wealthy VOC in the 16th century. You can feel as if you are transported back to the glorious era of old Jakarta (Batavia) which once became the most strategic spot of trade in Asia.
There are also many old buildings surrounding this complex such as Bank Indonesia Museum, Indonesia Puppet Museum, Fine Arts and Ceramics Museum, and Cafe Batavia. 
10. Bogor Palace
This palace is one of the six presidential palaces in Indonesia which has been there since the 18th century. Bogor palace was originally known as Buitenzorg mansion and built by Gustaaf Willem Baron von Imhoff, the Governor General of Dutch East Indies in 1744.
Mr Imhoff wanted to escape from the noisy and hot Batavia. He found a peaceful place and then decided to build a mansion for him to rest and live there.
After the volcanic eruption of Mount Salak which caused this mansion to be heavily destroyed, Bogor Palace was rebuilt again and used as a presidential palace today. 
You might also like: Persebaran Flora dan Fauna di Indonesia beserta Karakteristiknya
__________________________________________________________________________________
Historical places are always interesting to read, right? The past seems like it has become a part of us today and shaped into the present figure of our nation.
If you are interested in studying history in depth, then you should register yourself in Pijar Belajar. It is an educational platform which provides study materials you need for school. 
You can find it at Google Play and soon to be available at the App Store. What are you waiting for? Download Pijar Belajar to feed your curiosity now!
Reference:
Popular Historic Sites Attractions in Indonesia, Trip.com, https://www.trip.com/travel-guide/historic-sites/indonesia/100045-1000001002/ 
Borobudur Temple Compounds, UNESCO World Heritage Convention, https://whc.unesco.org/en/list/592 
Tanah Lot - Bali Temple On Rock, Bali Star Island, https://balistarisland.com/tanah-lot-bali-temple-on-rock/ 
Lawang Sewu, Sistem Registrasi Nasional Cagar Budaya, http://cagarbudaya.kemdikbud.go.id/cagarbudaya/detail/PO2015071300003/lawang-sewu 
Explore Jakarta Kota Tua: Today's Old Batavia, Wonderful Indonesia, https://www.indonesia.travel/gb/en/trip-ideas/explore-jakarta-kota-tua-today-s-old-batavia 
Seberapa bermanfaat artikel ini?